SparkPoint Innovations opened a Georgia office in October of 2012. After receiving multiple requests from schools in North and South Carolina, it was decided that the next chapter in the SparkPoint Innovations story would be expansion. The Carolinas office opened in the fall of 2015 with the debut of Orbit Earth Expo. The Big Canyon Balloon was added to the roster in the fall of 2016.
Teachers in North Carolina love our programs because they are aligned to the NC Essential Standards for Science at grades K-6. Our programs can be used as an introduction, review, or for preparation for the 5th grade Science EOG or NC Science Final Exam for 6th graders.
North Carolina's programs are taught by Tracy M. Custer, a certified teacher with passion for interactive, authentic learning!
With our huge, patented cold air canyon, we fast forward into the future to see how nature's forces change our 15 ft tall canyon model. Students debate fast versus slow changes to the earth while they experience weathering, erosion and deposition. They participate to create landforms including a barrier island, a sand dune, and a delta. Forces causing erosion are explored as we pause to compare rocks and minerals – what is the difference? What are types of rocks we know and how are those formed? Inside the canyon, students will discover a fossil record and an oil deposit. What are the fossils telling the explorers about the relative age of these layers? How did the oil form? Is it a renewable or non-renewable natural resource? The answers to these questions and much more will be discovered during out unforgettable, interactive earth science programs for each grade level.
Students journey into space to create and experience the cycles, systems and relationships between the earth, moon and sun using our huge, inflatable Earth model and scale-sized moon. While interacting with the inflatable representations in a darkened gymnasium with a light to represent the sun, students manipulate the models to experience eclipses, seasonal/lunar cycles, creation of winds, day/night cycles, tides, rotation vs revolution, physical characteristics of the earth, moon and sun, gravity, order of the planets, seasons and more! The Orbit Earth Expo Program correlates to the state and grade level science objectives. There are different age-appropriate programs for each grade level.
Tracy Custer

NC & SC Lead Teacher & Regional Manager: Orbit Earth Expo

Tracy is a lifelong resident of North Carolina, growing up in and around Winston-Salem. Upon her graduation from North Forsyth High School, she was awarded the NC Teaching Fellows scholarship. She attended Elon College, earning her Bachelor's degree in Elementary Education. She began her teaching career in the Charlotte-Mecklenburg School system. During eighteen years in the public schools, Tracy worked in five schools and two school systems. She spent five years as a school librarian and earned her Master's degree in Library & Information Science from UNC-Greensboro. By far, her favorite part of her career has been working for SparkPoint Innovations. Tracy is married and has two teenagers, one cat, one dog, and one bearded dragon.
From a teacher...
"Our teachers were impressed with how much you included and how well your presentation aligned to the standards. Many teachers I talked to said you both were hilarious. They loved your energy! The kids had a great time and have a better understanding of weathering and erosion. Fantastic!"
– Ashley McMath, 5th grade teacher, Blue Ridge Elementary
From a teacher...
"The Big Canyon Balloon presentation was a wonderful hands-on learning experience for Midway's 3rd and 5th Graders! They were engaged in learning and reviewing important Earth Science Standards and were given fun ways to remember important vocabulary directly related to the standards! We will definitely use the program again for other Grade Levels at our school! Thanks again for coming to Midway where all students are learning to think scientifically!"
– Libby Romig, K-5 Science Lab, Midway Elementary School
From a student...
"This was the most awesomest thing I have ever seen in my life."
– 3rd grade student
From a teacher...
"The Big Canyon Balloon was a fantastic review for the science CRCT in a fun, entertaining, and interactive way that this age MUST have!"
-Melodi Shanks, 6th grade science teacher
From a teacher...
"Thank you so much for these two assemblies!  All the teachers and kids really enjoyed it!  They loved the exposure to the vocabulary it gave our kiddos!"
-Kristin Poncheri, Science Lab, Fair Oaks Elementary, Marietta, GA
From a teacher...
"Thanks again for a great experience!!! The feedback from almost all the kids was that they loved it as well. I asked every class what was the coolest thing or something that they learned and every class was truly fascinated by the actual size difference of Earth and the sun."
-Chris Vernon, 6th grade science teacher, Woodland Middle School, Stockbridge, GA
From a student...
"I love your presentations over every other presentation I have ever seen because your enthusiasm keeps everyone excited and engaged!"
-Emily Oldani, 6th grader, Otwell Middle, Cumming, GA
From a teacher...
"Our school loved the Grand Canyon visit last May. The teachers felt it was the best review of those earth science TEKS (standards) that they have ever seen or could imagine seeing. We are interested in having your team visit and do their "magic" [again]."
-DeAnna Jezisek ETAG/ Science Fair and Science Day Contact – Forest Creek Elementary
From a teacher...
"What a fabulous way to bring change over time into our midst. Exciting and informational!"
-Melanie Nelson- Kindergarten Teacher
From a teacher...
"I had a great time and so did my students!"
-Julie Trokey – 3rd Grade Teacher
From a teacher...
"Thank you for showing my students science in real life! This helped them to better understand what they learn in my classroom"
-Lisa Marré- 4th Grade Teacher
From a teacher...
"WOW! I love the model and how many TEKS you cover! Earth Science came to life today!"
-Janette Wiatrek- 4th Grade Teacher
From a teacher...
"The presentation was absolutely outstanding! Hats off to you! We'll see you next year!"
-Yolanda Brantford- 5th Grade Teacher
From a teacher...
"This in incredible! Thanks so much for an incredible experience for our students who may never get to experience the Grand Canyon in real-life."
-Ashlee Smith- 5th Grade Teacher
From a teacher...
"This is a fantastic presentation geared for the age level and connecting the learning with the student's own experiences."
-Larry Hollon- 5th Grade Teacher
From a teacher...
"I enjoyed the energy of the presenters and having the students interact with the model."
-John Magbuhgt- 5th Grade Teacher
From a teacher...
"It was a fun way to teach the students science. I'm sure they will not forget the concepts they were taught today. It was easy and clear for them to understand [the speakers]."
-Ana Rebecca K-5th Grade Teacher
From a teacher...
"I would recommend this program to any school. It is informative and it held the attention of the students."
-Ray Trosper- K-5th Grade Special Education Teacher
From a Science Coach...
"Our presenters tailored the activities to meet our needs. Great job!"
-a Science Instructional Coach
From a Teacher...
"I saw the Big Canyon program for the first time approximately 8 years ago. This program reinforced my teaching on so many levels. The presenters are energetic, professional and have students interact with processes that take years to form. We love this program so much we have had them come back year after year! Can't wait until next year!"
-5th grade teacher, Bear Creek Intermediate
From a District Science Specialist...
"Presentations were excellent! Our students were able to make deep connections on Earth science concepts with the interactive word walls, songs, kinesthetic movements, visuals, mnemonic devices, and much more!"
-Melonie Flores, K-12 Science Specialist, Harlingen CISD
From a District Science Specialist...
"The presenters did an amazing job of engaging the students! We were impressed not only by the visual display itself, but also by the vocabulary cards that displayed academic vocabulary in both English and Spanish. We also loved that the students were active participants throughout the presentation. We'd recommend SparkPoint to anyone wanting to offer a memorable science experience to their students."
-Holly Maldonado, Science Strategist, Los Fresnos CISD
From a Principal...
"Great Presentation!! Students were actively involved throughout the presentation. Excellent correlation with TEKS."
-Antonio De La Cerda, Principal, Valley View 5th Grade Campus
From a PTA Member...
"Thank you so much for an amazing day at Grand Oak Elementary! The students and teachers truly enjoyed [their] presentations and I have heard from many parents about how excited their children were when they got home."
-Kelly Duffy, Grand Oak PTA Contact
From a Teacher...
"Orb brought the Earth & Planet unit to life for my students!"
-6-8 EC teacher, West Stanly Middle School
From a Teacher...
"If you want to see for yourself the moon in a Geosynchronous-orbit, and view the different features of our Earth from a space perspective then the Orbit Earth Exhibit is for you."
-Robert Naylor, 5th grade teacher, Winget Park Elementary
From a STEM Coach...
"This was a great program. It definitely helped dispel some misconceptions from 'Smaller' scale teaching."
-Megan Mcnutt, STEM Coach, JN Fries Magnet Middle
From a Teacher...
"Orbit Earth Expo is phenomenal! It is a great way for students to make connections with the solar system which they learned in third grade to the content they will learn in fourth grade. Experience how Earth rotates, tilts , and orbits the sun while seeing the moon orbit the Earth helps their awareness of day and night as well as seasonal changes. Orbit Earth Expo is exciting and engaging for all involved."
-Karen Sanders, 4th grade teacher, Winget Park Elementary
From a Principal...
"Students (and staff) thoroughly enjoyed the Orbit Earth Expo today! Students learned about the earth's movements and the role it plays in our days and nights, and the changing of the seasons. We were able to see why a solar or lunar eclipse occurs, and what causes the phases of the moon. A giant 14 ft. diameter earth brought the science to life. We are so thankful for "Miss Tracy" who kept our kids mesmerized while they learned."
-Jane Wallace, principal, Hunter Street Elementary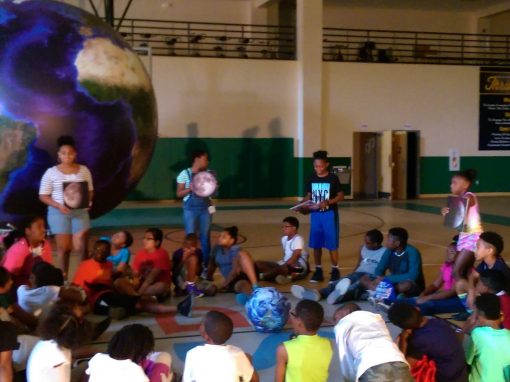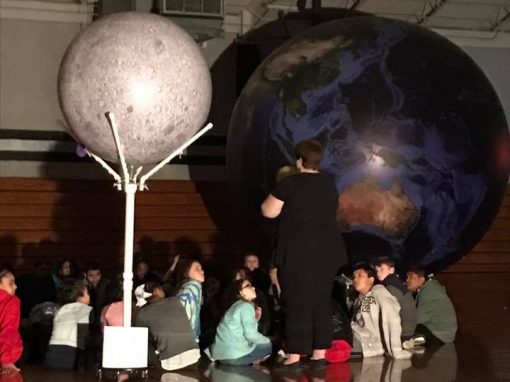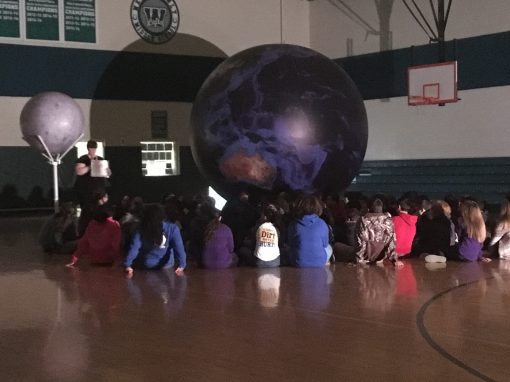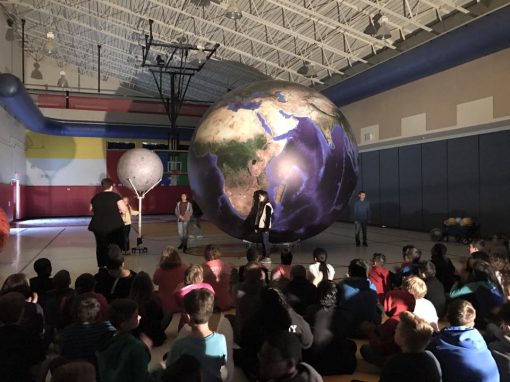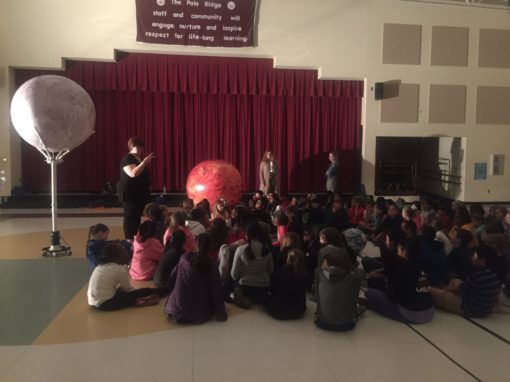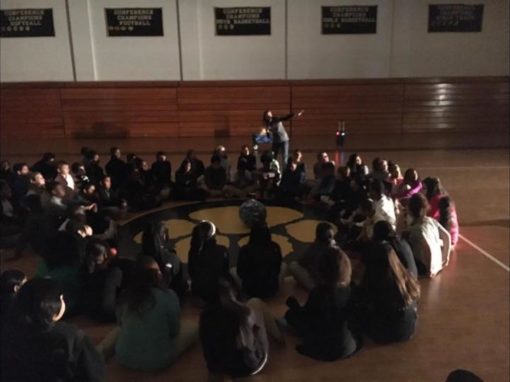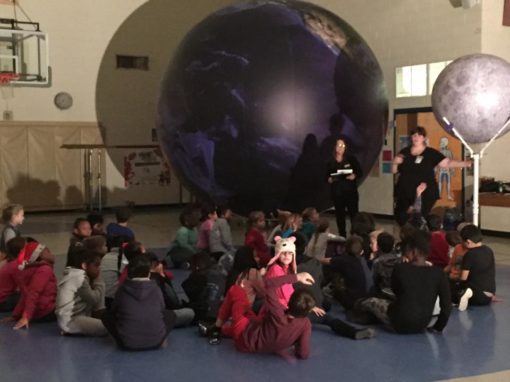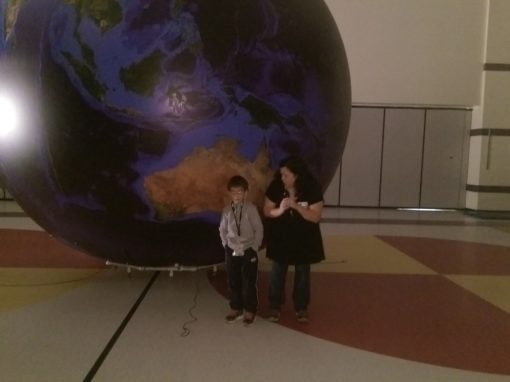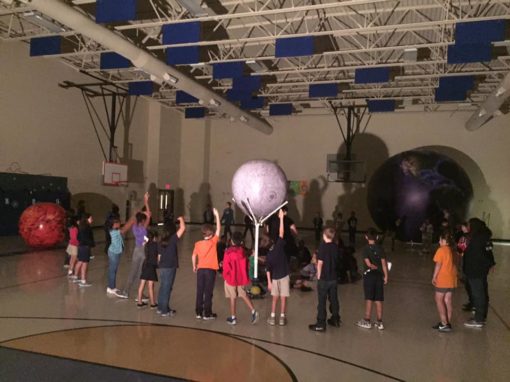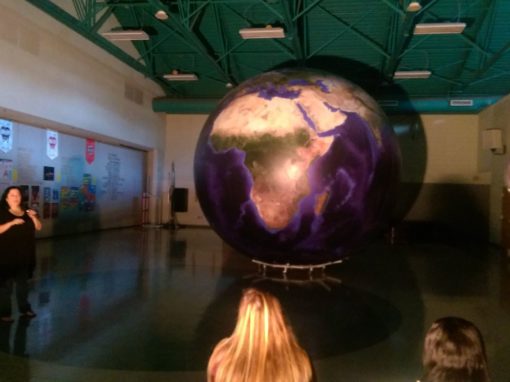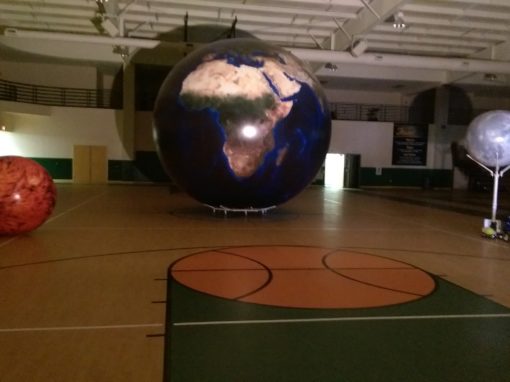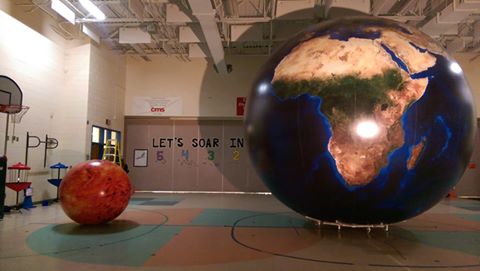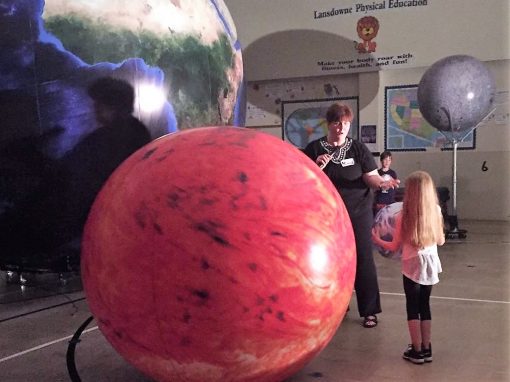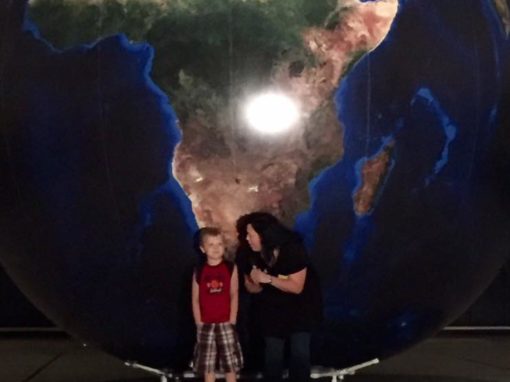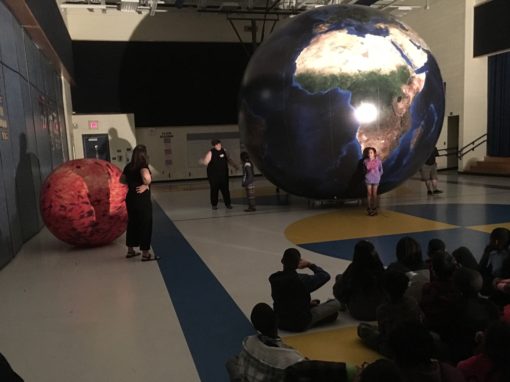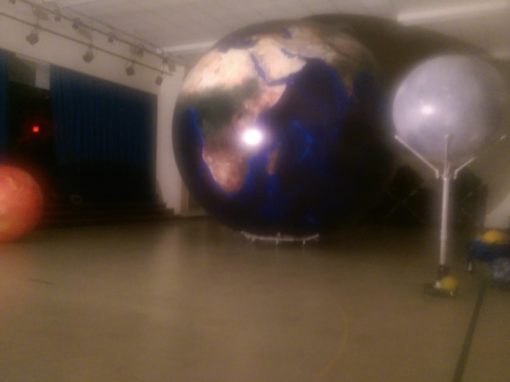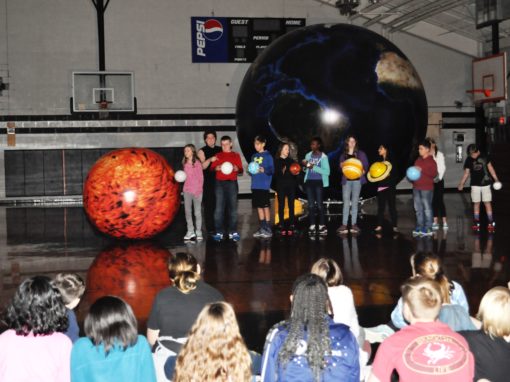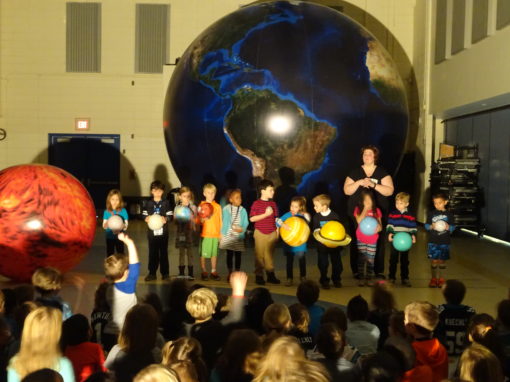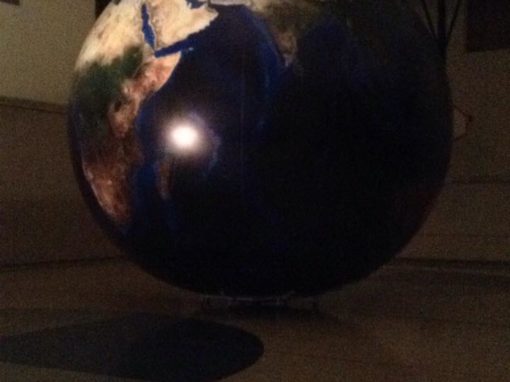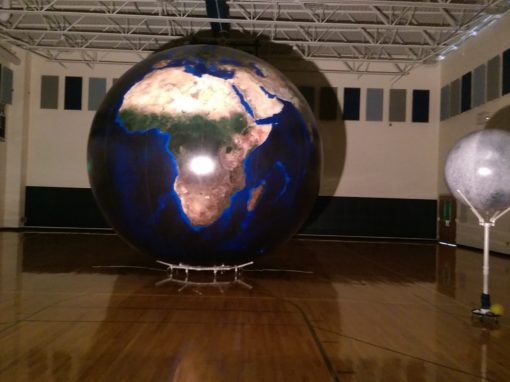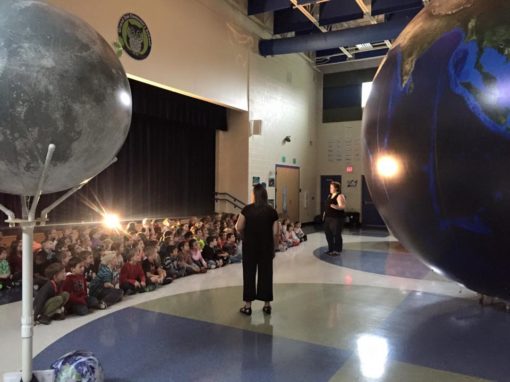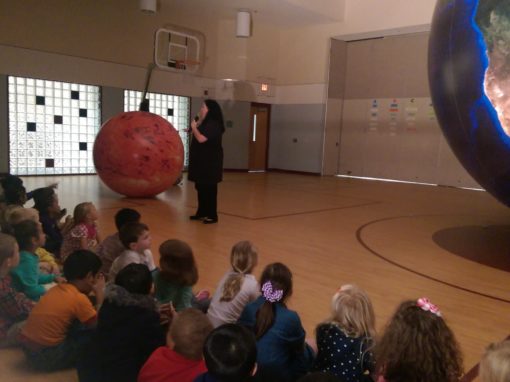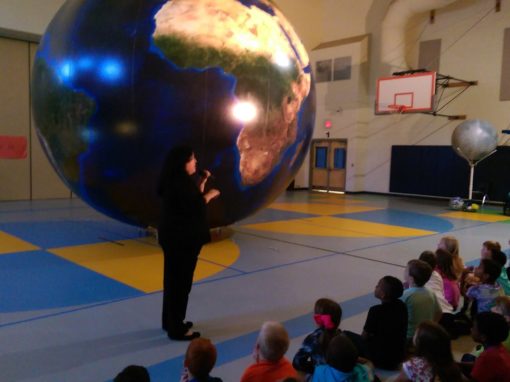 Where Have Rocky and Orb Taught?