Texas Orbit Earth Expo Program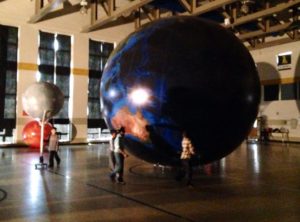 Orbit Earth Expo launched in Texas in 2009 and has been amazing students all over the state ever since! Students journey into space to create and experience the cycles, systems and relationships between the earth, moon and sun using our 16' Earth model and 4' moon. Students interact with the inflatable representations in a darkened gymnasium with a light to represent the sun, manipulating the models to experience eclipses, seasonal/lunar cycles, creation of winds, day/night cycles, tides, rotation vs revolution, physical characteristics of the earth, moon and sun, gravity, order of the planets, seasons and more! Program takes place in a darkened gymnasium and correlates to each grade levels' Texas Essential Knowledge and Skills (TEKS) K-8th grade. There are different age-appropriate programs for each grade level.
Orb, along with his Sun George and his appropriately scaled moon, travel to schools with their teacher friend, Jessica Wigley. Jessica has lived in many different states since she grew up in a military family, finishing high school in San Antonio. She graduated from The University of Texas at Austin with a degree in Astronomy with two minors in Museum Studies and Classical Civilization. She has worked with telescopes on UT's campus in Austin and worked at McDonald Observatory in West Texas. She now works at Reimers Observatory in Dripping Springs (that's their 25″ telescope in her photo) weekend nights with a focus on informal science education during the week in San Antonio. She enjoys sleep, when she has the time, and doing astrophotography.