New Year, New Deals
Rocky and Orb Can't Wait!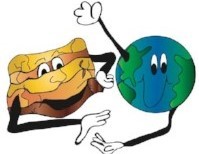 Summer is over, that time has passed
It's time to go to school at last!
Rocky and Orb have their ducks in a row.
There's only one thing missing, though!
Rocky: Where are all the kids?!
Orb: They're JUST back in school, Rocky. Some aren't even back yet. Relax.
Rocky: Well, ok. I'm just a little….eager. It's been a long summer!
Orb: Yes. There, there. I, too, am ready for some new conversations.
Rocky: Hey! That's not nice!
Orb: Rocky. How many times can we count your layers? Yes, you look like bacon. Yes, you are very, very large. Yes, your waterfall is breathtaking. Yada yada.
Rocky: (chuckles) I DO resemble bacon quite a lot.
Erosion and weathering, fossils and forces!
Moon phases, seasons, and energy sources!
Tectonic plates and landforms' slow changes,
Eclipses, winds, and high mountain ranges!
Don't hesitate, dates are already booked.
Show kids our programs and they will be hooked
On mysteries, theories, and questions of scale,
Sounds like the time to not miss our new sale!
For $50 off, book right away!
Save your date and some cash
At the end of the day.
Use code #SCHOOL17 for savings today!