CUMMING, GEORGIA – Rocky the Big Canyon Balloon visited with the 3rd and 5th grade students at Daves Creek Elementary on Tuesday.
Amy and Bailey began the day with 3rd grade – those kids were ready to learn! Three sections of third grade visited throughout the morning, allowing for smaller groups and more interaction and fun!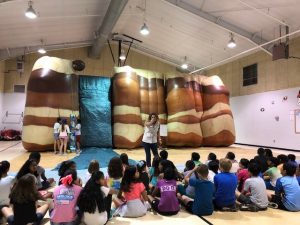 Weathering, erosion, and deposition were first up, and our teachers were quickly impressed with the students' knowledge of rocks, minerals, and the hardness scale! What's the hardest mineral? That was a breeze for these kids!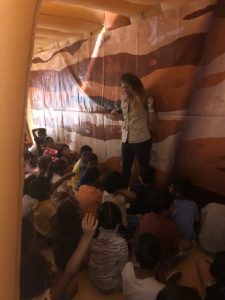 The 5th graders ROCKED (hee hee, get it?) the Big Canyon Balloon program in the afternoon. Two of three classes even figured out our challenging landform creation demonstration – wow! Amy and Bailey enjoyed everyone's sense of humor as we put the movement of erosion into the movement of dance – who knew Fortnite dances would show up in a geology experience?
Thanks for a great day at Daves Creek! We had a great time, and Rocky loved visiting your school!