STATESVILLE, NORTH CAROLINA – Orb took Tracy to American Renaissance Elementary, a charter school in North Carolina this week. The school is located in a building that once housed a Ford dealership, and they got to present Orbit Earth Expo in the old showroom, with a whole wall of windows facing the downtown street and the students sitting on the stage. A staircase and second floor balcony made for the perfect spot to capture the day's action – thank you to the teacher kind enough to take these unique photos for our program. It's not often we are able to get a bird's eye view of our program!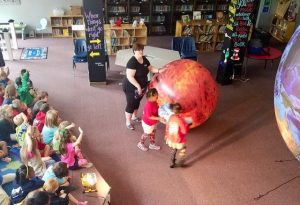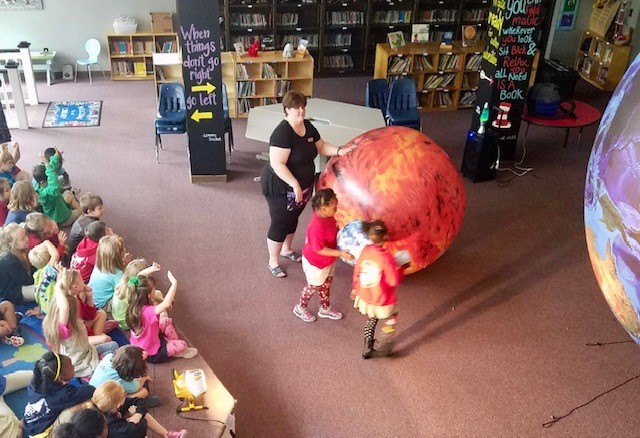 Those "showroom" windows provided a challenge for our moon phases demonstration, so we moved that demonstration to a separate room for first and fourth grades. We really appreciate the flexibility of those grade levels and the assistance of those teachers in transitioning between spaces mid-program!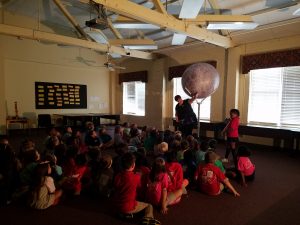 Student questions are the best – while waiting for all of the 5th grade classes to arrive, we were discussing inflation vs deflation times for our models. The 5th graders figured out that the difference in time is due to using two different devices with two different power levels. Nice job, scientists! They were quickly absorbed in the challenges of heat transfer, global winds, and seasons. 
We enjoyed small groups with the K-5 students throughout the day and they did a great job asking questions and working out challenges in our hands-on experience.
Thanks for a great day, American Renaissance Elementary! We had a blast teaching your students! Can't wait to see you all next year!