MINNETONKA, MINNESOTA – What a fantastic day Catherine and Orb had at Notre Dame Academy in Minnetonka last week! Orbit Earth Expo showed up just in time for Spirit Wear Friday – it was great to see the students showing school pride through their Notre Dame wear instead of uniforms.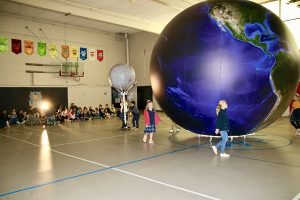 Catherine enjoyed spending time with a range of grades and ages. We heard that the K-2 kids were out of this world! Our complicated demonstration enacting the sun, earth, and moon in their confusing pattern of orbiting and rotating was no match for these kids. The students acting out the processes easily revolved the earth around the sun, all while the moon orbited the earth! Wow! Thinking question: If you have a birthday every time the earth orbits the sun, how many trips does the moon make around the earth during that year? Hmmmmm….
The day continued with the older students visiting Orbit Earth Expo to explore ideas such as phases of the moon, eclipses, tides, and seasons. Do you remember how the model had to be changed to create a lunar eclipse after we made a solar eclipse? Why in the world does our model make it look like we have solar and lunar eclipses each month? That's not right! Can you recall some other limitations in our model? If only we could get everything right!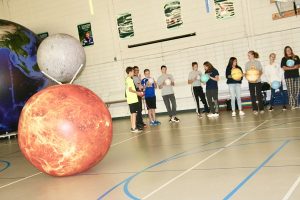 During the middle school presentations, Catherine traveled to Africa, then Australia, and on to the Pacific Ocean with different students. Lucky for her, the travel companion to the Pacific turned out to be a swimming star at Notre Dame – what luck! When you travel to the "dark side" and find yourself in the middle of the Pacific Ocean at midnight, it's great to be with an experienced swimmer. 
Thank you for a great day, Notre Dame Academy! We had so much fun bringing Orbit Earth Expo to your school!