CARROLLTON, GEORGIA – Stephanie and Ginny had a great time with the 2nd and 4th graders at Central Elementary this week! Orbit Earth Expo caused quite the scene: students entered their darkened gymnasium to find a 14′ earth model and scale sized moon. Was that other model the sun? It sure looked too small, but after a quick lesson on scale, we figured out that there's no way to bring the right size sun for that size earth! Do you remember which model was the right size for our sun model?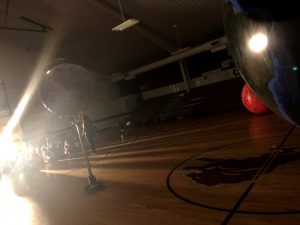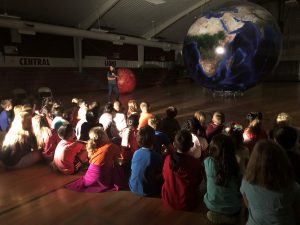 4th grade started the day with a bang, even muscling through a lock down drill right in the middle of learning about the planets! It didn't stop their learning though, they jumped right back and and we acted out the solar system for the teachers. 
One of our favorite fun facts we heard that day was about the moon's orbit…do YOU know that keeps the moon in its orbit? The earth's gravity, of course, but why doesn't the moon come crashing into the earth? This is a FUN topic to explore! 
All of the 2nd and 4th graders now have access to our SparkPoint Kids' Page for the rest of the school year – submit a question or a response to us!  Orb would love to hear what you have to say! Looking forward to meeting your 3rd and 5th graders in a couple of weeks with our Big Canyon Balloon geology program!