EDINA, MINNESOTA – What fun to visit a French immersion school! Now we know a whole different way to remember whether the moon is waxing or waning. When the moon is waxing, it looks more like the letter P–as in the French "premier," meaning "first." And when the moon is waning, it looks more like the letter D-as in the French "dernier," meaning "last." Thanks, Ms. Meyer!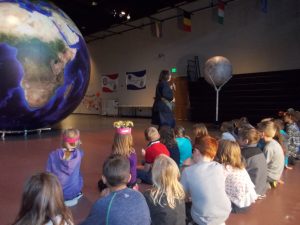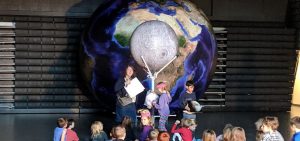 These third graders were experts on eclipses: each class knew the difference between a solar and lunar eclipse right away! Maybe they already knew the words "solaire" and "lunaire" in French?
Thanks to Ms. Meyer and the other third grade teachers for bringing Orb to Normandale and giving him a language lesson! Great job, third grade! Thanks for participating and asking such great questions.