WILLOW RIVER, MINNESOTA – SparkPoint Innovations was excited to bring Orbit Earth Expo to the students of Willow River School for a full day of programs in the gym, followed by their Science Night!
Orb had a SOUPER time at Willow River! It was certainly a cold day, but the wonderful soup and salad supper was a real treat. It was hard to choose from all the delicious homemade soups–thanks, teachers!
Catherine had a great time sharing Orb's secrets of the solar system with the kids – moon phases? No problem. Difference between a solar and lunar eclipse? Nailed it. Those Rebels rotated and orbited our models with ease and impressed us with their clever responses and problem-solving skills.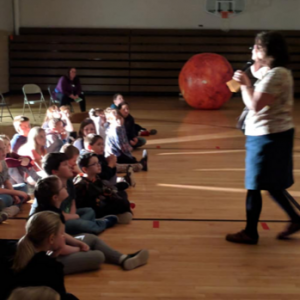 Orb really enjoyed the evening program! Thanks, Willow River Rebels, for helping teach your parents all the things you learned during the day. And thanks, parents, for being such a great audience and asking such wonderful questions!