BOWDON, GEORGIA – SparkPoint Innovations teachers Ginny and Stephanie had a great time with the Red Devils of Bowdon Elementary School!
We got to see all the students throughout the day and then stayed on for an amazing STEAM Night where we joined StarLab and many other science experiences designed for students and their families. What a fun community!
5th grade began our day and we worked our way down to kindergarten. The older kids figured out how to change our models to show a solar and then a lunar eclipse. They showed off their understanding of moon phases with no problems at all. Our younger students gave us some good laughs as they acted out the crazy dance of the earth, sun, and moon – makes us wonder why the moon isn't dizzy!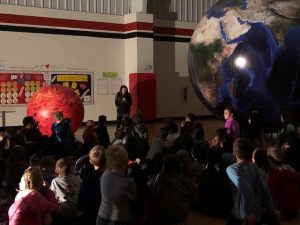 Our favorite question from a student was this: "What would happen to the earth if we didn't have the sun?" Wow! That answer certainly wouldn't be in our favor, would it? Would we have plants? Would we have usable water? Would there be life on earth? SparkPoint votes for keeping our sun in place how about you?
It was great to see so many families come out and participate in STEAM Night. We enjoyed seeing students challenge their parents in their knowledge of the Planet Shuffle, Moon Phases, and Sun Trivia. And, of course, who doesn't want their picture taken with Orb!
Thanks so much for having us out, Bowdon! We look forward to seeing you again in a few weeks with the Big Canyon Balloon geology experience!