CUMMING, GEORGIA – We had such a fun day with Orbit Earth Expo at Mashburn Elementary!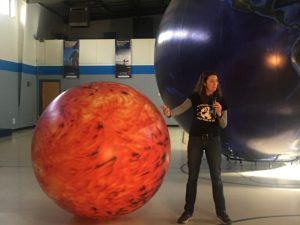 We enjoyed teaching grades K-5 today in grade level programs throughout the day. Students were on the ball, solving mysteries of the solar system as they rotated and revolved the earth and moon models with ease.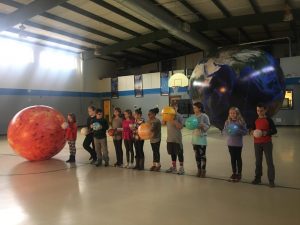 Scale of the moon? Solved. Scale of the sun? No problem – but can you imagine if we were to bring the scale sized sun that would match Orb? No way! Wouldn't begin to fit in your city, much less your school! It's a much better idea to bring a marble to match our sun model.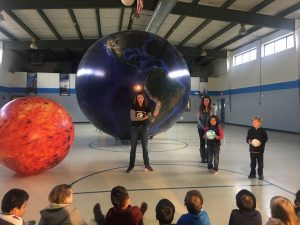 Mashburn kids did such a great job explaining how it's possible that Africa eats lunch when Australia eats dinner, while South America eats breakfast! A fifth grader related it to a point of view study from language arts, telling us that it's all about point of view! When Africa is eating lunch, the sun is directly over head, but at that same time, Australia has a different point of view in relation to the sun. Brilliant!
A kindergartner summed it up at the end: Mostly, it's just that we all have to share the sun, and if we don't take turns by letting the earth turn, it won't be fair! What a great response!
We had a great time at your school – thank you for having us out!