CARRIZO SPRINGS, TEXAS – The Big Canyon Balloon visited Carrizo Springs Intermediate School to spend a fun day hanging with the 5th graders!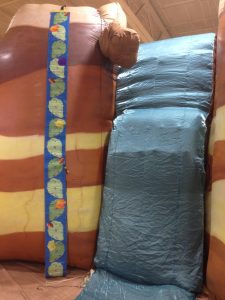 Nick was repeatedly impressed with the knowledge and preparation these students had, making for a fun day of questions and digging deeper into geology concepts. It's always fun when we can follow students' lead in learning more about earth science!
The kids' journals were fantastic coming into the presentation – their pre-existing knowledge of slow changes that happen to the earth allowed for expansion within our program that we LOVE to have the opportunity for!
It wasn't all serious, though – those kids could rock with the best of them. Ask a 5th grader to show you the erosion dance….when earth materials erode, what are they doing? Moving, of course!
And that boulder up there? You know that can't possibly defy time and gravity and nature's forces. Did you predict what was going to happen there? What natural processes occurred when we time traveled into the future?
Thanks for a great day, 5th graders! You were a fantastic audience!