CONCORD, NORTH CAROLINA – Orbit Earth Expo launched into Northwest Cabarrus Middle School for a fun day of exploring earth science and our solar system. We loved the school spirit of the orange walls of the gym! Such a great effect with the light from the sun and the shadows we created!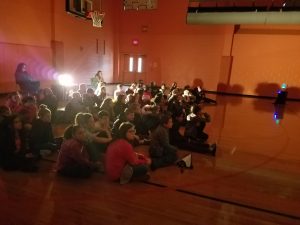 After being off school for two and a half days for snow, it was time to get back to class! Orb makes a fun back-to-school science experience to ease that transition! The rainy, gloomy day was perfect for the SparkPoint program – we must have darkness to create shadows and what better way to explore the why and how of phases of the moon and eclipses! Hopefully, the trek through the rain to the auxiliary gym was worth it!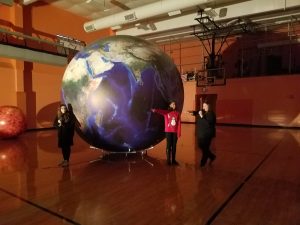 We used a lava lamp to bring convection, conduction, and radiation to life for students…we ALL know what a lava lamp is, but to connect it to science concepts is a great memory tool!
Thanks for having us out on such a cold winter's day. Wasn't it shocking to realize because of the earth's tilt, Australian students are in the middle of their summer break right now? That doesn't seem fair, does it? But don't worry, our turn is coming; thank goodness for the orbit of our earth!
We enjoyed visiting your school – hope to see you next year!