BOWDON, GEORGIA – SparkPoint Innovations had a blast with students at Bowdon Elementary School with Rocky the Big Canyon Balloon. We brought Orbit Earth Expo earlier in the year and were excited to show them a new program!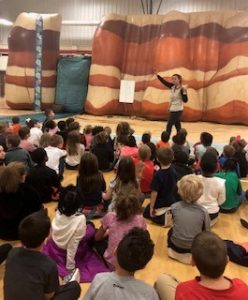 Why do we call him Rocky? Well, take a look at those sedimentary rock layers! Even though his nickname is "Bacon," the only accurate name for him is Rocky. (A Bowdon student thought he resembled a layer cake!) Did you know his rock layers even extend behind the waterfall just waiting to be weathered and eroded away?
Speaking of erosion, a shout out to all of our dancers today – you guys are rock stars! Can you share with your families why we DANCE to remember erosion? How is it different from weathering?
We enjoyed teaching grades K-5 today in grade level programs. Thank you to the teachers and the school for organizing this opportunity. Thanks for having us out to your school today!