PRIOR LAKE, MINNESOTA – Orb really enjoyed spending Presidents Day with Kids' Company students from Jeffers Pond and WestWood! These are some really active kids—they ran laps, played floor hockey, and took a long snowshoeing jaunt in the bright sunshine. They also asked some wonderful questions—what a smart group of students! Maybe one day we'll be celebrating one of them on Presidents Day!
Students were on the ball, solving mysteries of the solar system as they rotated and revolved the earth and moon models with ease.
Scale of the moon? Solved. Scale of the sun? No problem – but can you imagine if we were to bring the scale sized sun that would match Orb? No way! Wouldn't begin to fit in your city, much less your school! It's a much better idea to bring a marble to match our sun model.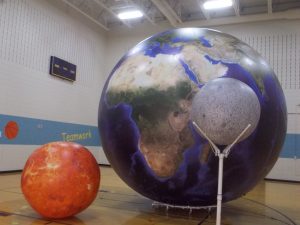 Thanks for having us to your school today! We can't wait to see you again in the future.