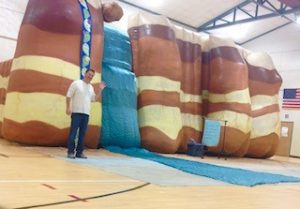 AUSTIN, TEXAS – SparkPoint Innovations had a great time with the kids in grades 3-5 at Lakeway Elementary last week with Rocky, the Big Canyon Balloon! 
Nick led the kids through our  experience with weathering, erosion, rocks, minerals, and fossils. Lakeway Elementary is situated in a part of Austin with many hills, cliffs and "canyons". Relating the falling boulder and erosion of rocks to the canyons around the school was a blast! We even got to discuss how the school's driveway, being steep, could erode after thousands of years. Let's all be glad these are slooooowwww changes!
A big thank you to the PTO for sponsoring the Big Canyon Balloon for students in grades 3-5! We had a blast and hope to see you next year!