CUMMING, GEORGIA – SparkPoint Innovations was so excited to bring Orb (our 14′ earth model) to the kids at Coal Mountain Elementary! Orbit Earth Expo in an in-house astronomy program that allows students to manipulate our models to discover the mysteries of our solar system and to solve the puzzle of scale and limitations.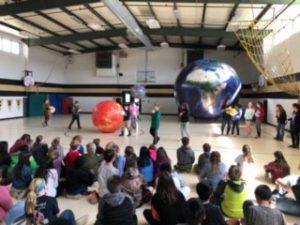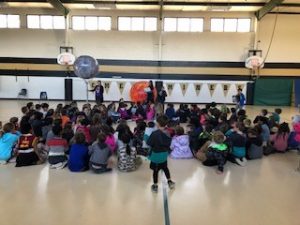 Stephanie and Gabi were so impressed with the students' behavior and extensive knowledge of earth science content. When asked what would happen to the water on our planet if the earth was farther away from the sun, a kindergartner promptly answered, "Evaporation!" Wow! These kids have fantastic teachers! 
In fact, every single group that entered the gym immediately questioned why the sun was smaller than the earth. What a great question! But…if we brought the right sized sun for our 14′ earth model, can you imagine what would happen? It wouldn't fit in your city, much less your gym! But no worries, we brought the right sized earth for our sun model….do you remember what it was?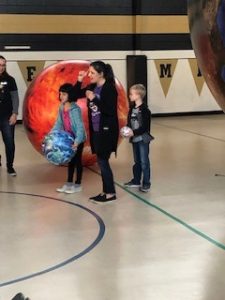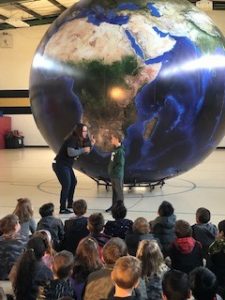 Thank you so much for letting Orbit Earth Expo visit Coal Mountain Elementary today! We had a blast getting to know you all and sharing our program with you! We will end by sharing a joke told to us by a 5th grader:
Q: Why does Saturn have rings?
A: Because God liked it so much he put a ring on it!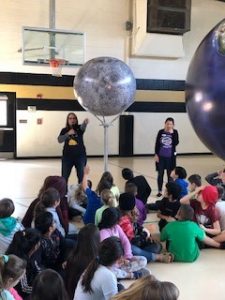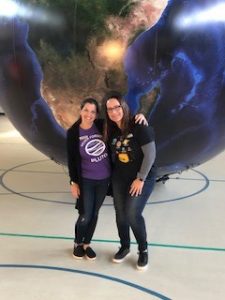 A huge thank you to Mrs. Webb for organizing today and to the specials teachers that spent the day with us!