WINNIE, TEXAS – SparkPoint Innovations had a great time bringing Orbit Earth Expo to the students of East Chambers Elementary School.
We enjoyed teaching  grade level programs throughout the day. Students were on the ball, solving mysteries of the solar system as they rotated and revolved the earth and moon models with ease.
Scale of the moon? Solved. Scale of the sun? No problem – but can you imagine if we were to bring the scale sized sun that would match Orb? No way! Wouldn't begin to fit in your city, much less your school! It's a much better idea to bring a marble to match our sun model.
We had some fun questions come up today! First, how DID we get that model into the gym? Secret: Orb is like a huge beach ball that we inflate for schools. When he's deflated, he is about the size of a pillow! And a second question, how many earths would it take to fill up the sun? Answer? One million. Wow!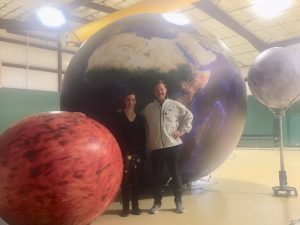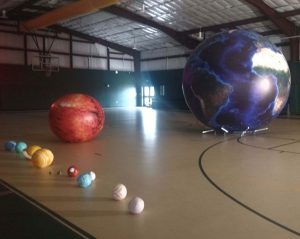 The next day, the students enjoyed Rocky the Big Canyon Balloon, another in-house science experience! 
Why do we call him Rocky? Well, take a look at those sedimentary rock layers! Did you know his rock layers even extend behind the waterfall just waiting to be weathered and eroded away?
Speaking of erosion, a shout out to all of the students who participated in the "Break, Move, Drop" song – you guys are rock stars! Can you share with your families the song that helps you remember what Weathering, Erosion and Deposition mean?
We enjoyed teaching you guys for a two whole days! Thank you to the teachers who helped with the program and school for setting up our visit! Thanks for having us out to your school today! Hope to see you again in the future!